General Manager,State Grid Corporation of China, Mr. Liu Zhenya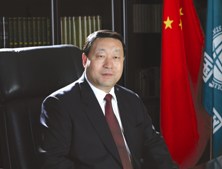 Liu Zhenya
Secretary of Party Leadership Group and President
State Grid Corporation of China
Mr. Liu Zhenya began to work in October, 1971. He joint CPC in April, 1984. Liu is a senior engineer graduated from Shandong University of Technology in August, 1977. During the early years of his career, he worked as a technician in Baiyanghe Power Plant of Shandong Province, and later taught in Shandong University of Technology. He was once also a technician in Linyi Electric Power & Industry Bureau, and later worked as deputy director, director and deputy secretary of CPC Committee successively. In October, 1992, Liu was appointed as deputy director general and deputy secretary of CPC Committee in Shandong Electric Power & Industry Bureau. In 1995, he became director general of Shandong Electric Power & Industry Bureau, and then chairman & general manager of Shandong Electric Power Corporation. He was also appointed Chairman of the Board in Shandong Luneng Group and Vice Chairman of Hua Xia Bank in that year. In 2000, Liu became deputy secretary of Party Leadership Group in State Grid Corporation of China, and was latter appointed deputy manager of SGCC in 2003. In 2004, he assumed the office of President of SGCC.

Awards & Honor

Title of Excellent Entrepreneur in National Energy Industry in 1990.

Medalist of Shandong Enrichment & Prosperous Award in 1991.

Shandong Provincial Labor Model on 1992.

First Class Merit awarded by Shandong Provincial Government in 1996.

Medalist of National Labor Day Award in 1998;

Representative of the Ninth National People's Congress in 1998.

National Labor Model in April, 2000.