Vice Group President and President of DSM China, Mr. Jiang Weiming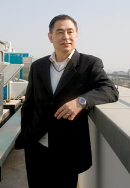 Jiang Weiming
Mr. Jiang Weiming was born in Shanghai, China in 1956. In 1986, Mr. Jiang graduated from Danish Royal Agricultural and Veterinary University with PhD in Agro.
In 1986 – 1991, Mr. Jiang serviced for the Danbrew Ltd in Denmark as the technical manager for the China department. In 1991 – 2006, Mr. Jiang joined Novozymes (former Novo Nordisk Enzymes Division) as Operation Manager, General Manager and Group Vice President/China President. Furthermore, in 2004, Mr. Jiang was selected as vice-Chairman of China business council for sustainable development (CBCSD).
In Aug. 2006, Mr. Jiang joined DSM as Corp Vice President, responsible for Strategic Projects in Asia Pacific, and since May 2007 appointed as President DSM China.
In the capacity of President of DSM China, Mr. Jiang is continuing the DSM's ambitions to the development of China as an important strategic site for DSM, not only limited to the existing business, but also develop a wide portfolio business in the areas of Materials, Health and Food.