Stronger push for 'green' cars
Date:02-17-2014 Source:chinadaily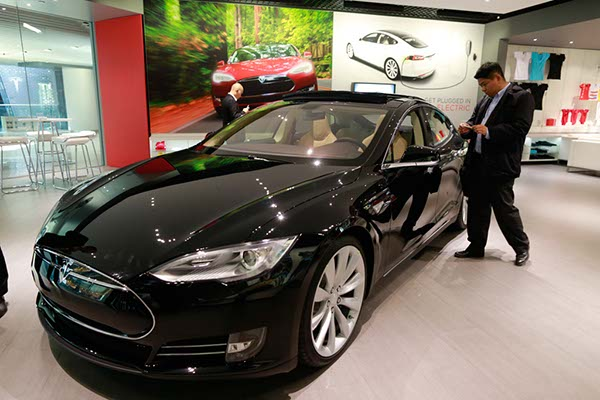 Potential customers examine a cutaway of a new energy car. Of the 18 million passenger vehicles sold in China last year, just 17,500 were alternative energy vehicles. [Chen Ming / For China Daily]
Heavy subsidies and easier licensing offered in Beijing
As the Spring Festival drew to an end, some 1.84 million Beijing residents had already applied to license new gasoline vehicles in 2014, more than 10 times the allotment for the entire year.
Competing in the city's lottery system, their chances are slimmer than ever after Beijing's transport authority cut the yearly quota from the previous 240,000 vehicles to 150,000 in 2014.
Winners will be announced on Feb 26.
But it is a completely different picture for buyers of "green energy" cars.
Beijing will offer 20,000 license plates for fully-electric cars through a separate lottery system in 2014, half of them available to individuals, according to a clean air action plan released in late 2013.
That means some 1,666 plates are available to individuals, almost meeting the demand from 1,700 buyers who have applied to license new-energy cars in the first two months.
The transport authority said it will increase the quota to 30,000 in 2015 and double it to 60,000 in 2016 and 2017.
In addition to the ease of licensing, both the central and local governments are offering generous subsidies to buyers of clean-energy models.
On Jan 28, four ministries raised the subsidy by 5 percent in highly industrialized target areas including the Beijing-Tianjin-Hebei region, the Pearl River Delta and the Yangtze River Delta.
Buyers of green cars can now receive a maximum subsidy of 57,000 yuan from the central government.
The Beijing transport commission announced its own subsidy package for pure electrics of up to 57,000 yuan. Its plan calls for 200,000 clean energy vehicles on the road by the end of 2017.
The list of models eligible for subsidies from the Beijing government has yet to be formally released, but a Xinhua report said it is all Chinese brands.