Cabbies in spotlight as app ban road tested
Date:03-04-2014 Source:shanghai daily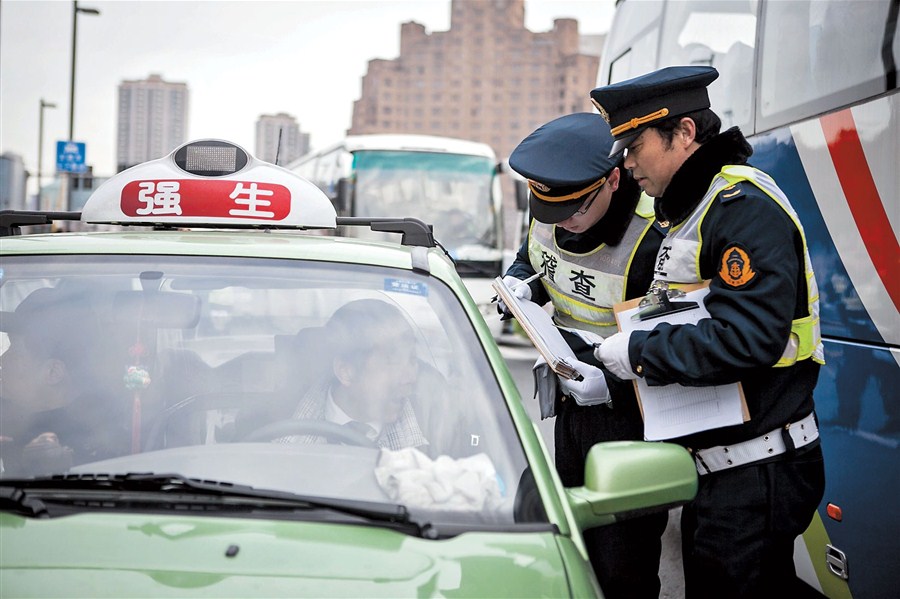 Police officers carry out a routine check of a taxi yesterday morning on Zhongshan Road S1. Cabbies have been banned from using third-party booking apps during rush hours. — Sun Zhan
SEVERAL taxi drivers yesterday flouted a new rule banning the use of third-party booking apps during rush hour periods, police said.
During a routine inquiry, officers identified one cabbie who at 9am picked up a passenger at the City God Temple who used Didi Taxi to make his booking.
Traffic police took the driver's license details and said he would be docked points.
Under the personal credit system, taxi drivers have 20 points per year. Each violation costs them between one and three points and in the event of losing them all they are ordered to stop driving and must attend a retraining course.
Yesterday, the driver said he was aware that using the apps was prohibited from 7:30am to 9:30am and 4:30pm to 6:30pm, but after driving around for 10 minutes without a fare he decided to take a chance.
Shanghai's big four taxi companies — Qiangsheng, Dazhong, Haibo and Jinjiang — said they have sent reminders of the new rule to all of their drivers. Some have even told cabbies to dismantle the brackets used to hold mobile phones on their dashboards.
Shanghai Qiangsheng Taxi Co said from next Monday, its dispatching system will be linked to both the Kuaidi and Didi taxi booking apps, which means it will be able to see when drivers use them to collect fares.
The city's three other cab firms are expected to establish similar connections before the end of the month.
Ding Yunping, chief operator of Qiangsheng's dispatching center, said the success rate of passengers getting a taxi through the dispatch system between 8am and 10am yesterday rose 8 percent from the same period last week.
"It shows drivers were more willing to take fares via the dispatch system," Ding said.
All four taxi companies have said until their dispatch systems are integrated with the apps they will rely on complaints from passengers to monitor drivers' behavior.
Shanghai Dazhong Taxi Co said drivers will be given a warning and put on a watch list if a complaint is received about them refusing to pick up a passenger. Second offenders will be given a 200 yuan fine and a 15-day suspension, while a third complaint will result in dismissal.
A commuter told Shanghai Daily she had mixed feelings about the ban on the booking software.
"We can't rely on drivers not to use the apps, especially if they are struggling to find a fare," the office worker surnamed Zhou said.
"Perhaps the technology could be adjusted so that once a driver collects a fare, the system stops sending them messages," she said.
"The good thing about the apps is that by matching supply and demand they have made the service more efficient. But they have also created a false demand.
"Because of the incentive payments, people can now actually make money by taking a cab," Zhou said.