Shanghai government cracks down on taxi booking apps
Date:02-27-2014 Source:south China morning post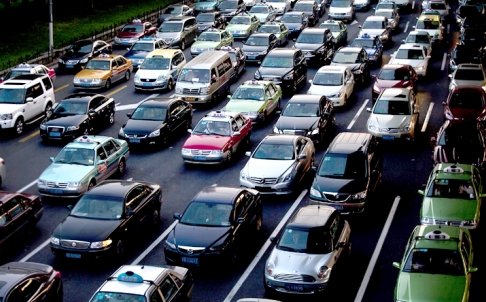 A rush-hour traffic jam in central Shanghai
The Shanghai city government has followed Beijing's lead and moved to restrict the usage of increasingly popular taxi-booking apps, putting at risk the investments of foreign and Chinese companies into the technology.
The new regulations, published on the website of the Shanghai Municipal Transport and Port Authority, bans the use of taxi-booking apps by cab drivers during rush hours. For private vehicles licensed for hire, the authority bans the apps' use entirely.
Between 7.30am and 9.30am, and 4.30pm to 6.30pm, taxi drivers cannot accept bookings through such apps, the regulations read.
Taxi-booking apps allow customers and drivers to co-operate to break through government price controls on fares and negotiate a market price for transportation.
The apps usually allow users to bid for cabs by adding an additional flat fare, but they do so at the expense of cab companies that provide dispatch services to the drivers.
It has also resulted in complaints from many large cities that passengers are having increasing difficulty hailing taxis on the street because many drivers refuse to pick up customers who pay normal fares.
Instead, taxi drivers cruise the streets with one eye on a collection of cell phones mounted on their dashboards, whose screens display a variety of apps that can help them find attractive fare bids. This has also stoked increasing road safety concerns on the part of passengers and regulators.
Such worries spiked earlier this year with news of a tragic accident in San Francisco in which a six-year-old ethnic Chinese girl was killed by a driver allegedly using UberX, a ride-booking app, to search for orders. The girl's family has filed a wrongful death lawsuit against both the driver and the Uber, the company behind the app.
The new regulations in Shanghai also ban taxi drivers from using the apps while driving, and threaten fines if the drivers refuse to pick up customers who pay ordinary fares.
Drivers who refuse passengers would be fined 200 yuan (HK$253) and could see their licence revoked. The regulations also fine drivers for accepting passengers who jump queues at airports or train stations.
Drivers are also barred from overcharging passengers and taking phone calls while driving.
Tencent Holdings, Asia's largest Internet company, developed a function in its popular WeChat messaging system which allows customers to book and pay for cabs using its e-payment mechanism, and refunds a portion of the fare to the user.
Analysts say the app was developed in part to help Tencent compete with rival e-commerce giant Alibaba for a share of the online payment market, which is dominated by Alibaba's Alipay product. Alibaba has also invested in a popular taxi-hailing app.
The regulation likely also applies to services like Uber, which recently launched in Shanghai and other Chinese cities, and allows passengers to book private cars.
Tencent, Uber and Alibaba did not immediately respond to requests for comment.